RE Interceptor 650
First lets have an over view of the Royal Enfield Interceptor 650 Colors
Royal Enfield Interceptor 650 Colors
Should you buy or not?
I'll keep this fairly short answering key questions:
Should you be spending that kind of cash on a motorcycle such as this?
Is it a viable option to buy a 'big' bike?
Which color should I buy?
Affordable
I wouldn't get into specs; you can find that practically everywhere. What I know is at this price segment, it makes the Royal Enfield Interceptor 650 extremely affordable by most people who have budgets above Rs. 1.5 Lacs. At a little above 2.5 Lacs ex-showroom, mind you, there's practically no other bike offering these specs at this price point. You can even check out the Triumph's Street Twin, which is the next best competitor.
Practicality
Now, with price out of the way, the next important question is whether you really need a 650 CC motorcycle. Of course you do! If mileage is not your biggest concern, revving the engine to overtake or merely just for pleasure would surely put a smile on your face. In terms of daily usage, a lot of people have mixed opinions. I for one, have ridden the bike for almost an hour in heavy city traffic and didn't find too much of a problem.
We see tons of Royal Enfield Classic 350's in heavy city traffic, Yes? The classic 350 weighs 192 Kgs dry. The Interceptor 650 weighs 202 Kgs. Hence weight for sure shouldn't be the biggest concern. With practically zero vibrations, the Interceptor 650 should be the better choice.
Coming to mileage, honestly, it isn't that bad. The Classic 350 delivers 30-35 KmPl whereas the Classic 500 gives around 25 – 30. The Interceptor 650, on the other hand, being a larger and one of the smoothest engines by far on a Royal Enfield delivers approximately between 20 – 25 KmPl, which in my opinion isn't bad.
Which Color Should I buy?
With price & practicality out of the way, you've reached this point feeling most confused. You look at one color which you think you like and instantly you feel another color would stand out far better.
Now the Royal Enfield Interceptor 650 comes in 3 broad options: Standard, Custom & Chrome. The standard gives the Mark 3 (Black), Silver Spector (Silver) & Orange Crush (Orange) whereas the Custom offers 2 variants- Ravishing Red (Red & Black) & Baker Express (White With a Red Stripe) and finally the Chrome which is completely chromed out.
Normally, blogs would tell you that color is a personal choice which leaves you even more confused. However, I'll give you a clear cut direction as to which color should be most appropriate to make a style statement. My opinion is choosing the custom colors (Ravishing Red or the Baker Express) should keep you in a state of content for a longer period of time.
There are two main reasons for this.
A. The bike as it is is retro looking. The custom segment offers a blacked out finish as a result giving it it's perfect definition of a 'Modern Classic'. In a year or two, when the Company decides to give the bike a facelift, you wouldn't feel left out. A perfect example would be the Thunderbird & the Thunderbird X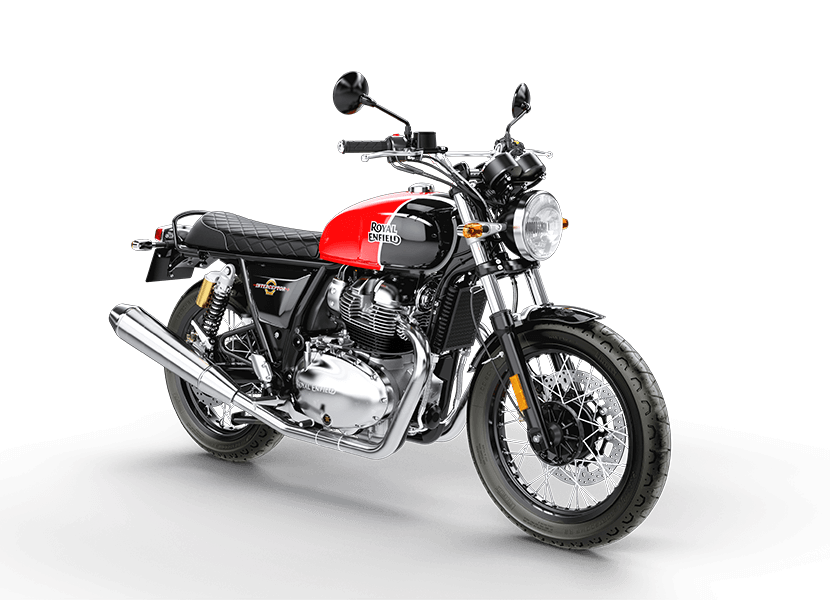 B. The custom segment is priced Rs. 8 – 9K extra, which a lot of people wouldn't be willing to spend. Hence you would see a fewer custom bikes than the standard ones which leave your bike a bit more unique as compared to other Interceptor 650 riders.
If you're looking at buying one, do visit the Royal Enfield's official website